A journey of a thousand miles
starts with a single step.
YOU ONLY HAVE ELEVEN THINGS TO LEARN BEFORE YOU CAN CALL YOURSELF A GUITARIST!
A beginner in guitar is a person who understands how to play open chords.
The open chords are a group of chords that almost every guitar player learns first. It takes a while to get used to "bringing your fingers back" to each shape at first but is invaluable for teaching your fingers who is boss.
You should expect the tips of your fingers to become very sore if you practice a lot. This is normal at first but after about a month, if you keep at it, you will develop calloused tips of your fingers and they will no longer hurt.
The biggest challenge is to not get frustrated and quit. We all go through this, it will not take as long as you think.
Once you get them down, start strumming and changing from one chord to the next. Get used to changing often.
Take the time to learn these chords and they will serve you well. They will teach your fingers dexterity and your mind to focus.
MAJOR CHORDS SOUND HAPPY
The B Major is actually a BAR chord on the second fret but learning it here will be useful later.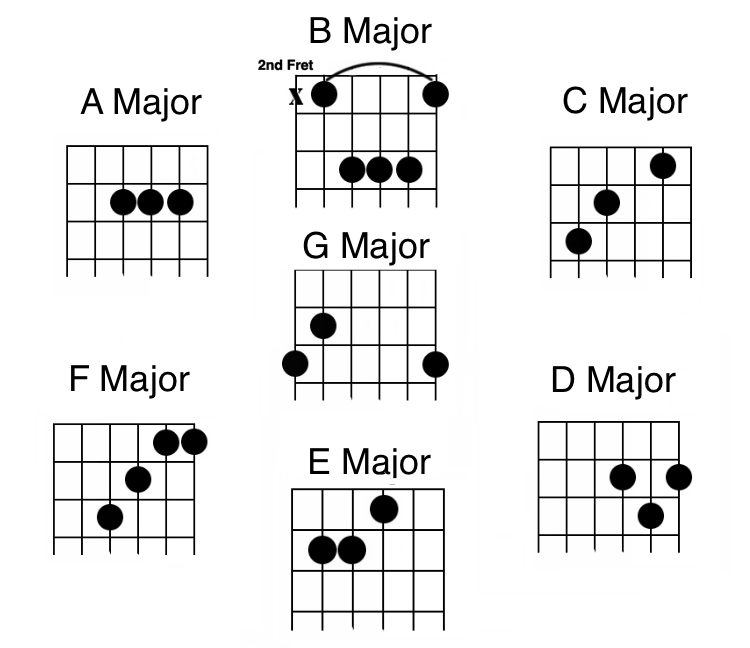 MINOR CHORDS SOUND SAD